How do I View or Review an Offer?
When you receive an offer on a listing, the first thing you may want to do, is review it. To review your offer(s), login to Instashowing.com and click the Offers button in the left navigation. When you get there, you will see a list of all the offers you have received.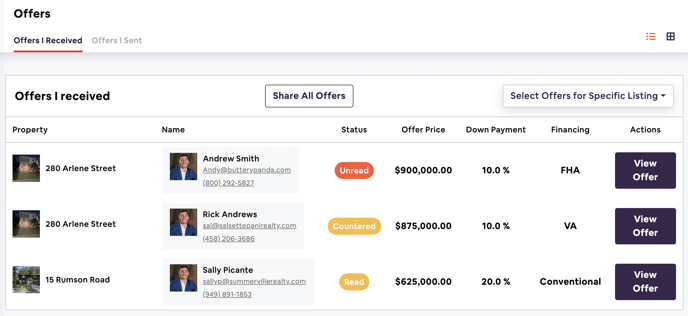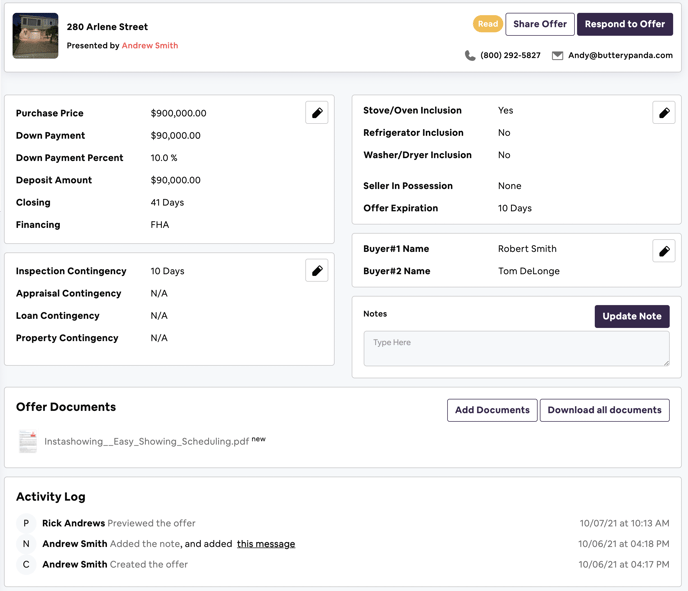 If you need to, you can narrow down the offer list by property using the Select Offers for Specific Listing drop down on the right side of the screen, and choose the property with the offer you are looking for. If that has multiple offers, you can differentiate them a few ways: by buyer agent, by offer price, or by the Status column-- if you haven't opened up the full offer yet, the offer is likely marked as Unread. When you find the desired offer, click the View Offer button at the end of the row. The full offer will appear.



The first section, at the top, gives you the address and thumbnail, so you know what property you are looking at, followed by the name of the buyer's agent. To the right, you'll find the offer status (now marked as Read since you have opened it), a Share Offer button which allows you to email the offer to your client (or anyone else who should review the offer), and finally a button to Respond to Offer, which will allow you to accept, reject, or counter the offer.
Below the Share and Respond to Offer buttons, you will find the contact information for the buyer's agent in case you need clarification on any detail in the offer.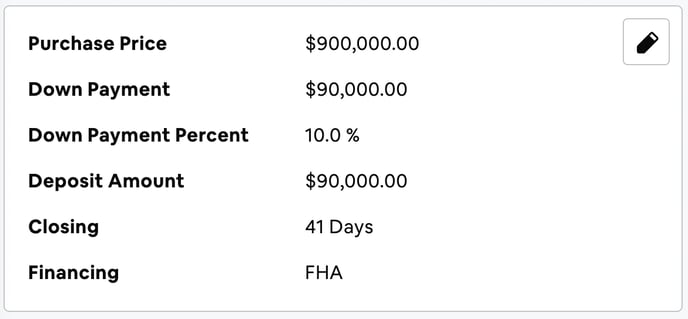 Below the listing and buyer agent information, on the left, is the financial information about this offer. This includes the price offered, down payment and deposit amounts, financing type, and sale closing schedule.




The next box on the left displays contingencies for inspection, appraisal, loan and property.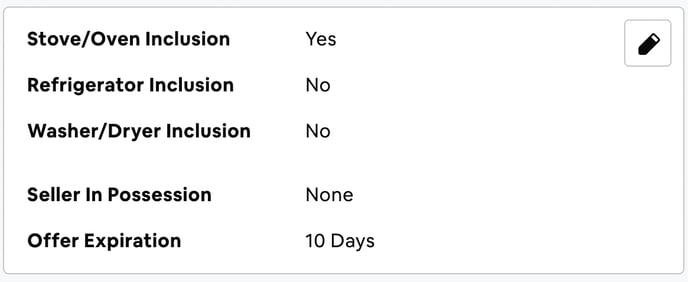 If we move over to the right side of the page, we start with inclusions for appliances. This section also includes the amount of time that the seller can remain in possession of the property, and the number of days this offer will remain valid.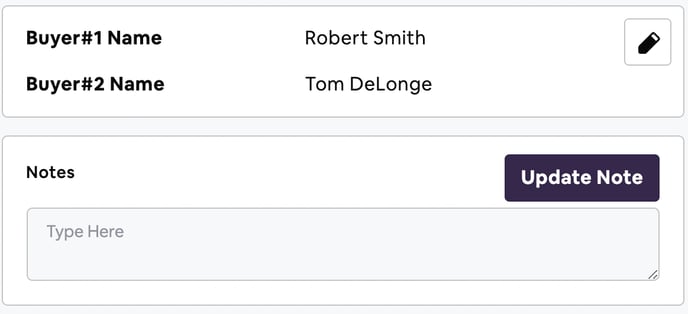 Below this, you have the buyer(s) name(s) followed by any notes the buyer's agent submitted along with this offer.


Any attached documents will be displayed at the bottom of the offer, with options to upload more documents, or download the existing documents for review and/or distribution.





At the bottom, below the files, is the Activity Log. All action through our system will be included here. This includes the offer being submitted, when you reviewed the offer, offer actions (accept, reject, counteroffer) and record of when this offer was shared, and to which parties. This information may used for compliance.