How to use the calendar to track showing appointments
If you click the Calendar button in the left navigation menu, you will see all your showings in calendar form. By default, these will include the showings others scheduled to view your listings, as well as any appointments you have made as a buyers representative. These include only appointments scheduled through Instashowing.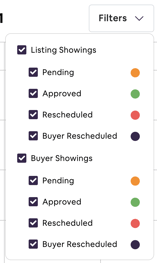 At the top of the calendar, you will see options to toggle between Month, Week, and Day views. Month is shown by default. To the right you will see the month and year you are viewing. Further to the right is a Filters menu. You can choose which appointments you want to see, and which to hide.
You may also notice the colors next to each category listed under Filters. These relate to the appointment colors in your calendar. Orange is Pending, Green is Approved, Red is for Rescheduled (by your team), and Purple means it was Rescheduled by the Buyer.
Below the buttons, you'll see a standard calendar layout in Monthly view. Any showings will be listed on the date of the appointment. Choosing any appointment on any date will bring up a list of all showing appointments for that date.
All
Buyer Showings
are listed first, followed by
Listing Showings
scheduled for your sellers.
There are no buyer showings in the example to the right, however there is a heading and a note to notify you there are no events of that kind scheduled for that day.
For each entry, the listing address, date, and time will be followed by the name of the appropriate agent. The last item on each appointment card is a Message button, allowing you to contact the agent named above the button.