Manually entering an offer into InstaOffers
If the Buyer's Agent has already sent you the offer via email, It's a good idea to enter the details into your dashboard. This means all your offers are in one place, and you can compare and present them to the Seller in a consistent way. The system keeps track of when the offer was received, along with when it's been reviewed, countered, rejected, or approved for compliance.
To enter a listing manually, login to Instashowing.com. Once logged in. you'll be taken to the Listings section of your dashboard automatically. Find the listing associated with the submitted offer then click the Offers button on the right and choose Create Offer.

You'll be shown basic listing information, and some information about yourself, the listing agent. The buyer's agent would see the same screen upon clicking an offer link provided by you. Click Get Started on the left side of the screen toward the bottom of the page.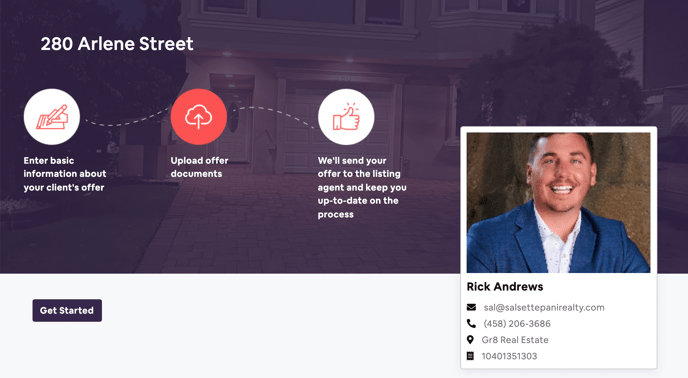 Next, you'll be asked to enter "your" contact and license information, which is meant to be information of the Buyer's Agent who sent you the offer. You will also be asked to identify the buyer(s) name(s) as well.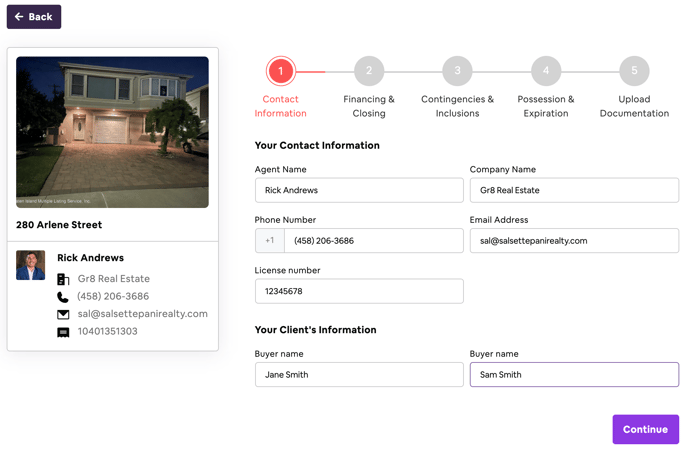 Once you click Continue, you will be asked to provide some preliminary Financing & Closing Information. After you've entered the offer price and financing information, you will decide how many days of escrow will be required, and click Continue.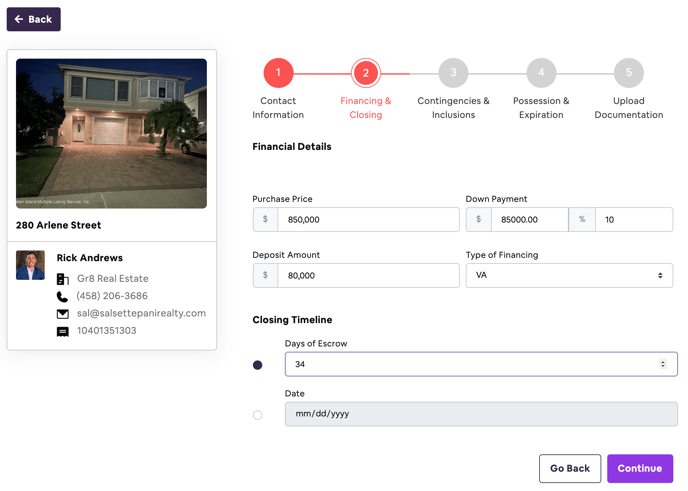 On the Contingencies & Inclusions section, you may choose the contingencies and number of days allotted for them, followed by any inclusions necessary for the sale.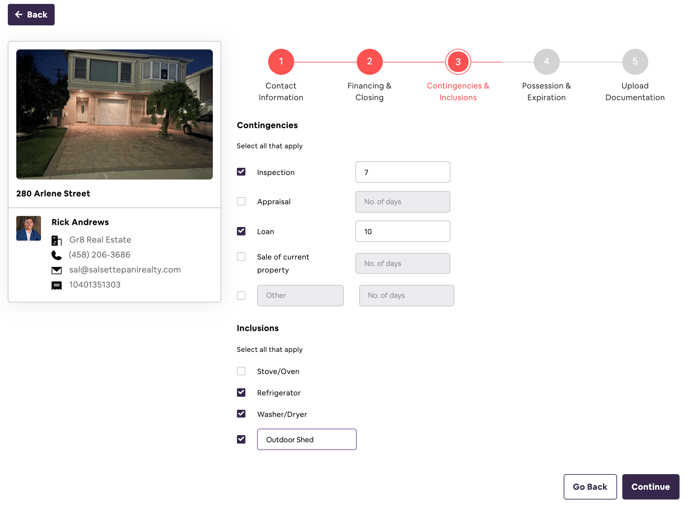 Click Continue to move on to Possession & Expiration where you can input how long the seller will remain in possession of the property, as well as how long this offer will be valid.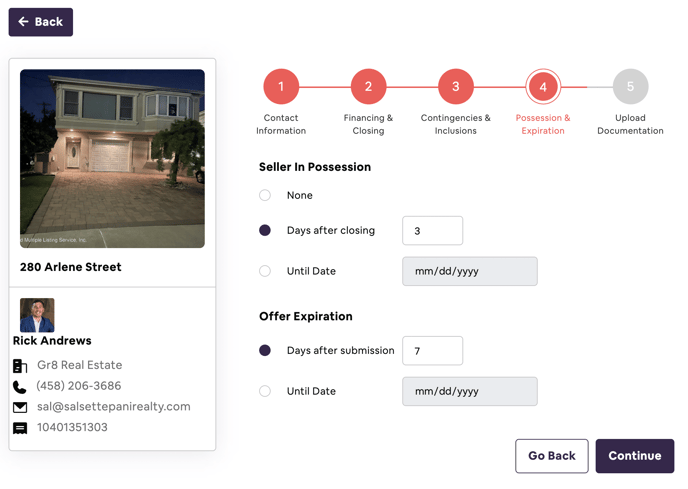 Pressing Continue will bring you to the last step, where you are allowed to upload any relevant documents like loan information, signed paperwork of the offer, and so on.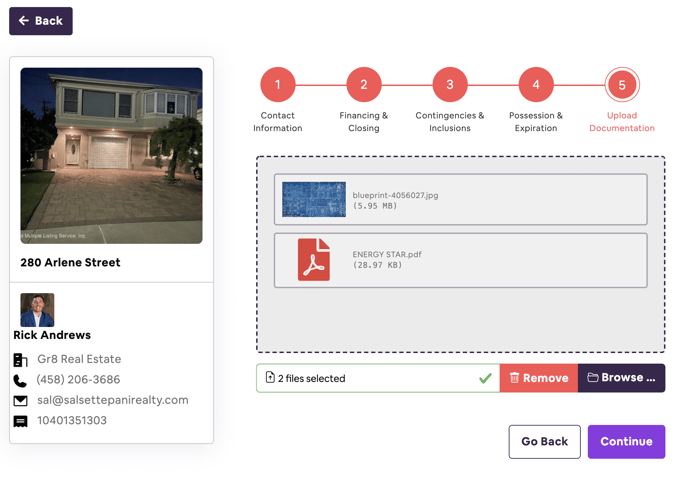 After the desired files have been attached, click Continue to see a full summary of the data you entered and documents you uploaded. Review this information to make sure you entered it correctly.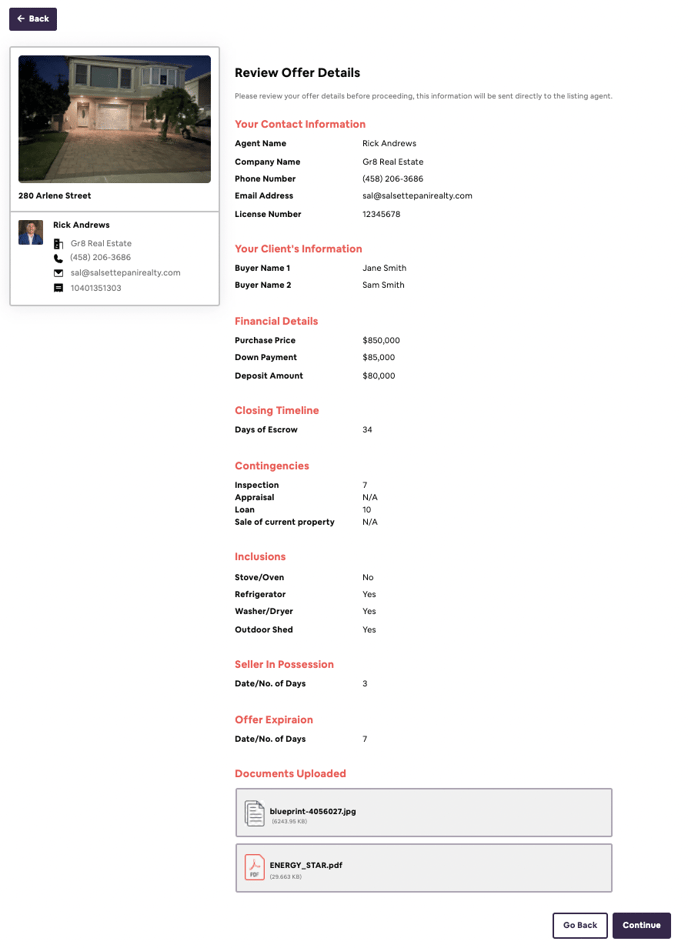 Click Continue to add any notes that may have been provided by the buyer's agent, then click Submit one last time.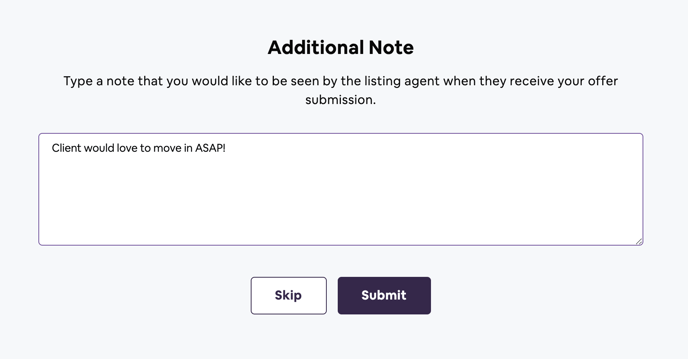 Your submission will be sent to the seller's agent (you) via email and will also be added to your dashboard immediately. Click Home to return to your dashboard.