Updating your Name, Photo, Company and License Information
Once you are logged in, click Account Settings, the last button on the left hand navigation menu. Clicking this option will open a submenu which includes the options are Profile Settings, and Archived Listings. Choose Profile Settings.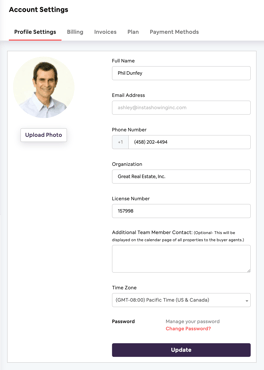 From this section, you can update your profile photo, name, phone number, organization, license number, additional team member information, time-zone, and password.
Most of this information is displayed to other agents when one party books a showing appointment, so adding a profile photo helps personalize the whole process.
When you receive scheduling notifications, they will be sent to this phone number and email address, so it's a good idea to keep this information up to date.
Selecting your local timezone ensures that showing appointment times booked by another agent, no matter their timezone, will be clear among all parties.
If you would like to change your password for any reason, you may do so at the bottom of this page. Note that you will be logged out once the change is made, and you'll be asked to login again with your new password.
Be sure to hit Update to save any changes before you leave this page.